Göttingen is situated in the middle of Germany between the Harz mountains and the Weser river and is well-known for its University, famous for having produced 44 Nobel Prize Winners.
The historic city centre, enclosed by the remains of the mediaeval town wall, is home to magnificent churches and half-timbered houses dating from the 14th to the 18th centuries. All places of interest can be found within its city walls, and are at most a leisurely ten-minute walk.
Göttingen's landmark is the Gänseliesel fountain statue, to be found in the market square in front of the Old Town Hall. This art nouveau statue figures a girl herding geese. Traditionally all new doctoral graduates from the University kiss her cheeks after passing their examination. This makes her "the most kissed girl in the world". 
The Göttingen Christmas Market will be open from 25th November!
The rich cultural life of Göttingen, with theatres, orchestras, museums and large events evokes interest well beyond the city boundaries. Easy to reach by road or train, the cosmopolitan city is suitably accessible to visitors from all over the world.
Tourist information in the Old Town Hall
Markt 9, 37073 Göttingen
Phone: +49 (0) 5 51/ 4 99 80-0
Fax: +49 (0) 5 51 / 4 99 80-10
E-Mail: This email address is being protected from spambots. You need JavaScript enabled to view it.
Website: http://www.goettingen-tourismus.de/?lang=en
Business hours:
April -October:
Mon. - Fri. 9.30 - 18.00
Sat. 10.00 -18.00
Sun. and holidays: 10.00 - 16.00
November - March:
Mon. - Fri. 9.30 - 18.00
Sat. 10.00 - 18.00
University of Göttingen and Göttingen State and University Library
Founded in 1737, the University of Göttingen is a research university of international fame with a strong focus on research-led teaching. The University is distinguished by the rich diversity of its subject spectrum particularly in the humanities, its excellent facilities for the pursuit of scientific research, and the outstanding quality of the areas that define its profile.
Göttingen State and University Library maintains a leading position among German academic libraries and plays a pivotal role in the development of digital libraries as well as research infrastructures at an international level. Areas of activities include digitisation, electronic publishing, open access, digital repository networks, grid-based research infrastructures, research data management and long-term access. Prominent examples of large-scale research infrastructure networks are OpenAIRE, DARIAH-DE and COAR.
High standards and an attractive environment for research and teaching
The University of Göttingen is strong in research basis, maintaining high standards in research and teaching and a top-level international reputation. In order to maintain this status and to build on it for the long term, the university, together with its partners on the Göttingen Campus, places particular emphasis on innovation and enhancement of profile, fostering young-generation academics and expanding research and information structures.
Göttingen´s vibrant research and teaching environment attracts excellent scientists and scholars from within Germany and abroad. Significant factors are the interdisciplinary research conducted in innovative research topics and the optimal support provided for up-and-coming young researchers, making it possible for the university to retain excellent young scientists and scholars who have trained here or to send them out into the world as ambassadors. Göttingen University ensures that its researchers and lecturers have the time and space required for creative work by gearing its administration, advisory support and services specifically to the needs of academics, and ensuring that working and living conditions are family-friendly. In addition, the Göttingen Campus makes available the necessary research and information infrastructure to facilitate outstanding performance in science and scholarship over the long term.
Göttingen University and its partners on the Göttingen Campus conduct pursue the research-based teaching approach. The university seeks to provide its students with broad methodological knowledge, develop their capacity for analytical thought, and grant them space for creativity. It also supports student mobility and intends to take further steps to integrate periods of study abroad into curricula.
Source: Göttingen University
Conference Venue
The MTSR Conference 2016 takes place at the Historical Building of Göttingen State and University Library (SUB Göttingen, Papendiek 14, 37073 Göttingen).
Pauliner Church (Historical Building). Initially, the Pauliner Church was part of a Dominican monastery founded in Göttingen in 1294. In 1812, the newly-created upper storey of the Pauliner Church became part of the library. Hosting the library's historical holdings, it came to be known as the Historical Hall. As part of the Historical Building of the Göttingen State and University library, today it provides a worthy setting for exhibitions as well as for scientific and cultural events.
Alfred Hessel Hall (Historical Building). The Alfred Hessel Hall, located on the first floor of the Historical Building, is available for lectures, conferences and event series on all opening days of the Library.
Travelling to Göttingen
By plane
The nearest airport is Hannover, but you will often find cheaper tickets to fly into Frankfurt International Airport.
Hannover Airport has regular train connections to Göttingen (with transfer at Hannover central train station).
Frankfurt Airport has its own train station with direct train connections to Göttingen (however some train connections require a transfer at Frankfurt central train station).
Travelling by plane within Germany is not generally practical, as this often takes more time than taking the train.
By train
Most IC (Intercity) and ICE (Intercity Express) trains on the North/South, East/West routes stop in Göttingen. There is a direct train from Frankfurt Airport. From Göttingen station you can either take a taxi to wherever your accommodation is, or take a bus from the central bus station, which is located next to the train station.
By Car
Göttingen is located directly off the 'Autobahn' A7, a major north to south motorway between Hannover and Kassel. There are two Göttingen exits. Please consult a map for the most convenient exit.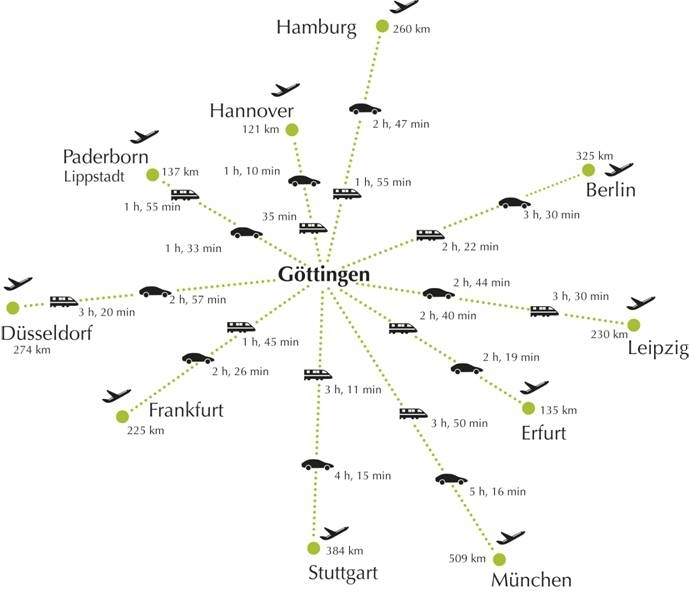 Hotel Recommendations
Overview: 
http://www.tagen-goettingen.de/de/locations-und-hotels/
Centrally Located Hotels:
Hotel Gebhards
Goethe-Allee 22
37073 Göttingen
Tel. 0551 49680
Hotel Stadt Hannover
Goethe-Allee 21
37073 Göttingen
Tel. 0551 547960
http://www.hotelstadthannover.de/
InterCityHotel Göttingen
Bahnhofsallee 1a
37081 Göttingen
Tel. 0551 52110
http://www.intercityhotel.com/Goettingen
Hotel Central
Jüdenstraße 12
37073 Göttingen
Tel. 0551 57159
Comment: close to town centre
Hotel Weender Hof
Hannoversche Straße 150
37077 Göttingen
Tel. 0551 503750
Other hotels:
B&B Hotel Göttingen-City
Maschmühlenweg 19-21
37073 Göttingen
Tel. 0551 309800
https://www.hotelbb.de/de/goettingen-city
Leine Hotel
Groner Landstraße 55
37081 Göttingen
Tel. 0551 50510
Hotel Astoria
Hannoversche Strasse 51-53
37075 Göttingen
0551 30500
http://www.astoria-goettingen.de
Best Western Parkhotel Ropeter
(ehemals Clarion Hotel Göttingen)
Kasseler Landstraße 45
37081 Göttingen
Tel. 0551 9020